Free Newsletter Inclusion! (Limited Time)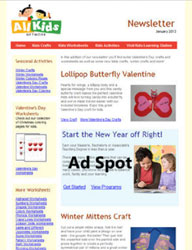 We currently have an open spot in our bi-weekly email newsletter. Because of this, we are offering a free newsletter inclusion to qualified advertisers that wants to try it out. We reach over 100k people every send. We can help with the creative as well. Our standard rate for this spot is $6 CPM (about $600 per send) so that's a pretty good value you are getting for free!
Why would we do this you ask? Because we are looking to find good quality advertisers to work with and we understand that you want to know it will work before you spend the money. Frankly, we aren't interested in selling you a send and having it not work for you either. That's why we are giving the first send away for free - so you can try it - risk free. And if it does work for you - we both win and can continue from there.
Call (888)570-1024
or contact us at
advertising@allkidsnetwork.com
today!
Advertise With All Kids Network
All Kids Network is a thriving online community that attracts over 1.1 million unique visitors per month. Our visitors are parents and educators looking for good quality resources for their children and family. Imagine letting this audience know what your business has to offer. This is your prime opportunity to reach out to them and bring them to your web site! When you are ready, please contact us by calling (888) 570-1024 or sending an email to advertising@allkidsnetwork.com.
We have a wide variety of advertising opportunities including banner advertising, email marketing and more. Please download our advertising information packet and then call or email us with any questions or when you are ready to get started!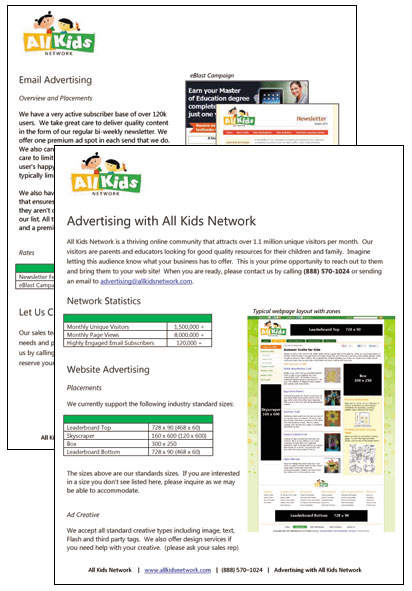 Download All Kids Network Advertising Packet