What you'll need:
Construction paper (many colors)
Scissors
Scotch tape
Glue
Pencil, Crayons, Markers
Green straws (optional)
How to make your Handprint Flowers Mother's Day Gift:
Trace your child's hand on the construction paper. Make sure that you trace a little bit of the wrist as well.
Cut out the handprint.
Use a pencil or marker and roll each finger around it to create some curl.
Lay the handprint on the table so the fingers curl out towards the table. Pick up the flower, wrap it around, and tape the ends together at the wrist section.
To make the stem either tape end of the flower around a green straw, or tightly roll a piece of green construction paper and tape or glue the flower to that.
Cut leaves out of green construction paper and tape or glue to the stem (if using a straw, tape works better than glue).
Make as many as you like and give them to Mom on her special day!
Please add a comment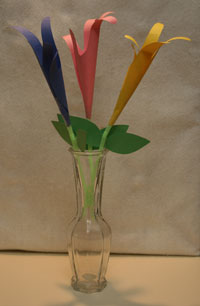 The stages of the handprint flower craft