What you'll need:
A 2 13/16" X 3 7/8" styrofoam egg
Yellow craft paint
2 yellow pipe cleaners
1 red pipe cleaner
2 googly eyes
Orange construction paper or craft foam
2 orange pompoms
Paint brush
Scissors
White glue
serated knife
How to make your Easter Egg Chick Craft:
Use a serated knife to carve the very bottom off the styrofoam egg so it will sit up.
Paint the egg yellow and let it dry. (tip: setting the egg on a dixie cup is a great way to let the egg dry)
Glue two googly eyes onto the egg.
Cut a small triangle out of the orange construction paper or foam and glue on as a beak.
Glue the two pompoms on the bottom of the egg as feet.
Cut the red pipe cleaner into three pieces. Bend each into a loop and stick the ends into the top of the egg.
To make the wings, start by taking a yellow pipe cleaner and bending one end into a 2 inch loop. Wrap to secure (see wing picture step1).
Next, wrap the remainder of the pipe cleaner around so that it makes a second layer inside the first loop (see wing picture step 2).
Finally wrap the rest of the pipe cleaner around so that it makes a third and final layer inside the second layer (see wing picture step 3).
Insert the finished wing (see wing picture 4) into the side of the egg.
Repeat these steps to make the wing for the other side of the egg.
Please add a comment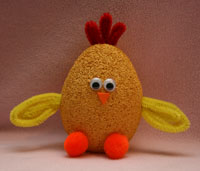 Wing Step 1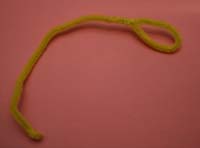 Wing Step 2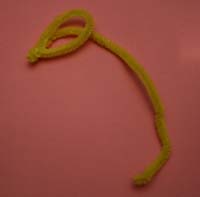 Wing Step 3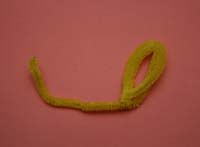 Wing Step 4