What you'll need:
Unfinished wooden frame (available at all craft stores)
Unfinished wooden heart (available at all craft stores) Tip: Instead of a heart, there are many options available at craft stores to personalize the craft even more!
Paint
Paint brushes
Sequins, buttons, stickers, etc.
Glue
Markers
A favorite picture
How to make your Mother's Day Homemade Frame Craft:
Paint the frame and wooden heart. Let each dry completely.
Glue the heart to the frame.
Glue decorations to the frame, or paint a design on the frame.
Paint a nice saying on the heart for Mom!
Add Mom's favorite picture to the frame to complete the craft.
Please add a comment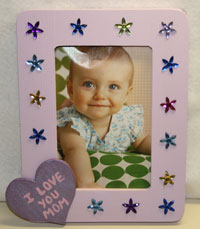 Undecorated frame and heart