About 3 Search Results Matching Types of Worksheet, Worksheet Section, Generator, Generator Section, Subjects matching Basic Skills, Type matching Worksheet, Grades matching Preschool, Seasons matching Winter, Similar to Hide and Seek Puppy Game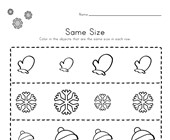 Identify the mittens, snowflakes, hats and snow...
Fill in the numbers that come before and after ...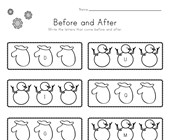 Fill in the missing letters before and after th...